The Macau Ricci Institute Symposium-the Development of a New Economic Paradigm
---
On October 15 and 16, 2020, the Macau Ricci Institute Symposium at the Ilha Verde Campus of the University of Saint Joseph gathered 27 presenters to address a most fundamental question of our shared life on this planet, namely, the Development of a New Economic Paradigm, that all might flourish. The presenters shared their expertise and experience to answer this question and to contribute to the work of The Economy of Francesco streaming conference, scheduled for Assisi, Italy, in November 2020. 27 presentations were made, with many of them done digitally from remote locations outside Macau, as well as in Europe, North America, Australia, and the Philippines.
Besides acting as host for the symposium, and chief organizer, Dr. Rothlin contributed a presentation to the symposium, "Triggering Change of the Economic Paradigm through Institutions of Education." Besides acting as moderator for sessions on both October 15 and 16, Dr. Dennis McCann contributed a presentation to the symposium, "The Principle of Subsidiarity and the New Paradigm of Economics."
The intent of the symposium was to join with the voices of so many advocating new solutions to the sufferings caused by the contemporary economic paradigm. Our challenge in drawing together concepts and ideals for the New Economic Paradigm and sustainable models of economy was to ground thoughts in the realities of our time and to identify thought and action towards the goal of economic transformation.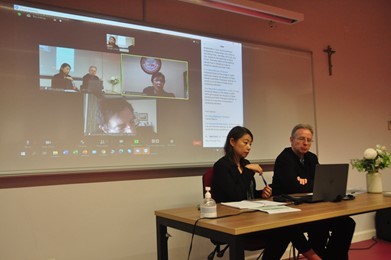 ---